Considering the authenticity of spirituals and what it certainly means to me when I share any piece, it matters very much to me the setting and context in which they are shared. When called upon to represent music for Black History Month especially, never do I consider whatever I share by myself or with anyone else to be for the purpose of "entertainment." So when I was preparing a concert presentation to share at a private club in Washington, DC– especially knowing the primarily represented community groups of the audience, it was important to me to not just perform these songs, let folks know which ones were by black composers, take a bow and call it a night. So with a modified version of the Out of Eden program, I included remarks and reflections on how these pieces from 18th century Europe to 21st century America were connected and how they reflected the connection we all share to one another.
Essentially, the message was that it's our human/divine nature to seek to identify with spirit, with Source, with God. Something "higher." We do this through art and we feel this in prayer, in creation, and in Love. Other aspects of our human inclinations– those of fear and belief in scarcity– also played out in European settlers' exploitation and abuse of African and indigenous people in their search for freedom. And one of the tools for sustaining this system of abuse was creating the social construct of race– which has led us to forget so much of the truth of who we all are. Even in the sense that white supremacist patriarchy has been a treacherous system that has subjugated so many from what has been historically acknowledged as the fullest legitimate status of humanity, no single one of us can be reduced to any of the labels we adopt or are given for the sake of categorization, belonging or both. We are part of everything, and everything is a part of us, and we are miraculous individuations of this cosmic mystery becoming conscious of itself.
This was the gist of the message, most fully expressed by the pieces on the program– which included Songs of Love and Justice by Adolphus Hailstork and selections from Songs for the African Violet by Jasmine Barnes. The audience responded audibly and visibly to the words I shared with deep appreciation from what I could tell of most. I expressed my gratitude to the audience members, to my colleagues, and to the producing board member for having us. It was evident to me, however, that this board member who'd helped facilitate the logistics of the program and scheduling was not pleased. She stood at the end of the program, after what felt to me and my colleagues like a rather extensive applause– and she apologized. "That was a lot of opinions," she said to the audience, looking at me with what appeared an unmistakable expression of disgust and disappointment. "I apologize, I did not know those remarks would be part of the program. That was a lot of opinions." She continued by thanking folks for attending and sharing blithe anecdotes about Todd Duncan and Leontyne Price, and the president of the club stood to express his appreciation to us all for sharing this program with their members and guests.
The first audience member to approach me when we were dismissed for dinner was an elderly African American woman. She looked at me with those silver rims around her irises that signal what a person has lived to see. "That was wonderful," she said. "You are wonderful." I thanked her. Another young woman of color who was seated near the front to view the concert but not stay for the dinner embraced me, expressing her admiration and gratitude for what I'd shared. A woman who appeared to be of some indigenous descent, who was there assisting an elderly patron, also thanked me with a knowing sincerity that was a comfort to me.
Many other members of the club also approached me to express their appreciation for the program– the overall performance and the truth of what was shared. I say these things not for the sake of offering "proof" that what I did was "right." It was difficult for me to find my ground again from the evening into the next day. Primarily because it was frustrating to me that of all the warm and sincere reception so many beautifully wholehearted people shared with me, the moment that stayed with me most was this other woman's public rebuke and dismissal in the form of an apology for what I had shared from my heart and soul. I'd been very intentional about sharing only what I knew and believed to be the truth, which is ultimately a beautiful embrace for our hopes and the work that's brought us this far. And as an African American woman in Black History Month, I of all people have the right to share what I know and believe– from my study, my family history and my own experience–to be true. I also don't say these things to invite pity or admiration. I know that this woman, who'd been my friend, was and probably still is convinced of the truth of her perspective and beliefs. She desires as much good and Love as anyone, and we simply seem to see goodness differently.
Even with this position of acceptance I was determined to sustain within myself, soon there would be a similar opportunity to share a similar substance of thought and history with what seemed would likely be a similar crowd– and now I had doubts. I was invited by some staff members at Strathmore to speak for their African American Literary Tea, given pretty free reign on the subject of Black History Month and the words and works of black women for up to twenty minutes.
Over the past couple of months, I had been contemplating the musical tradition of call and response in lots of folk music, especially spirituals, as an infinite phenomenon of time and space that Africans harnessed in their rituals of percussion, drumming, song and dance. And how remarkable it is that their enslaved descendants had encapsulated it into their voices, their bodies when those instruments and rituals were taken from them. Now here I am, seeking knowledge and wisdom from what was preserved in documents or memory from those in my bloodline and beyond among these people– through music, poetry and literature. And I wondered if they knew they were calling to me? When I speak, who will hear, remember, and answer my calls, whether they're with celebratory echoes or probing admonishment and critical correction? 
So I took this concept and wove these "songs" into a speech, which included a recitation of Sojourner Truth's speech at the Ohio Women's Convention and an excerpt from Dr. Prathia Hall's sermon, "A Nightmare in Broad Daylight." These quotes are a call and response from these women, synthesized into a single call to which we must respond. And how we respond to the past in our present serves as our call to the future. These women's words and work reflected the thwarted attempts for more of America's people to build alliance and justice for all. We need not repeat these mistakes, and I named the ways in which it appears we are allowing separatism to weaken us as a people and exhaust us as individuals. We've forgotten how far our Love can extend– but the memory is in our hearts and it's time we look around us and acknowledge the connections that while we often ignore, we can never break.
It had begun to concern me before I arrived at this beautiful mansion that maybe what I had prepared was a mistake. Maybe what I'd said the other night in the concert was too far. But from memories of much deeper humiliation I'd already endured and from which I'd grown and the simple assuredness of my heart– I knew that the only thing for me to do was to proceed as I had prepared. If it wasn't received well, that would be fine. It was a blessing to have been invited and perhaps the message would be just for me in sharing it. With the presence of a dear friend who attended as my guest and the gracious encouragement of the performing pianist for the luncheon, I felt empowered to share these women's words and my own with all the conviction they brought to me. And there was nothing but warm reception and appreciation from a room of diversely beautiful faces.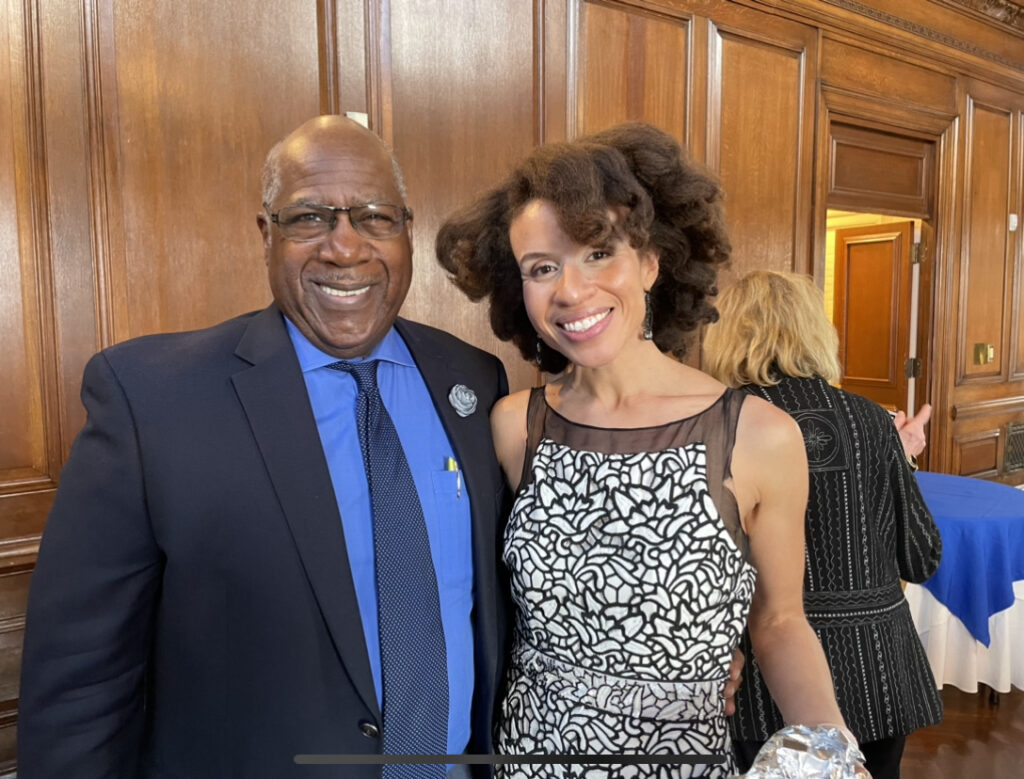 Yes, I'd struggled with what to make of my uncomfortable experience at the private club. But working out how to congeal it as my mind's narrative required that I release the fears of and unnecessary suffering from perceived rejection and disapproval. Releasing the desire for approval at all, I could then seek out the memory of the many lovely things that I got to experience that night. Generous and dedicated colleagues, a glimpse into eyes luminous with priceless wisdom, the opportunity to share my soul with others and the privilege of its being received. Had I not had the opportunity to work through this discomfort, these treasures and the privileged sense of brief "success" I experienced at Strathmore might have been lost to me. So for absolutely everything about all of these experiences, I am deeply grateful and consider myself extremely blessed.
What's this got to do with Black History Month? As an African American and indigenous woman I have the privilege to walk into these spaces and face fears that would have been gifts my ancestors couldn't afford. Many of the African American people we celebrate during Black History Month today were regarded as wanted criminals in their time, from Harriet Tubman to Fannie Lou Hamer to Dr. King to Angela Davis. Being "disliked" is a pretty sweet deal in comparison.
We all have different measures of social privilege relative to what those long before us experienced, and certainly relative to our respective positions in the present. But beyond privilege, it is my belief that we all have the same measure of divine power, even if our perspectives allow us different views of its reality. It's really cool to see that when we have the courage to use this power, the future gets a little brighter each day. There's still plenty of history yet to be made.